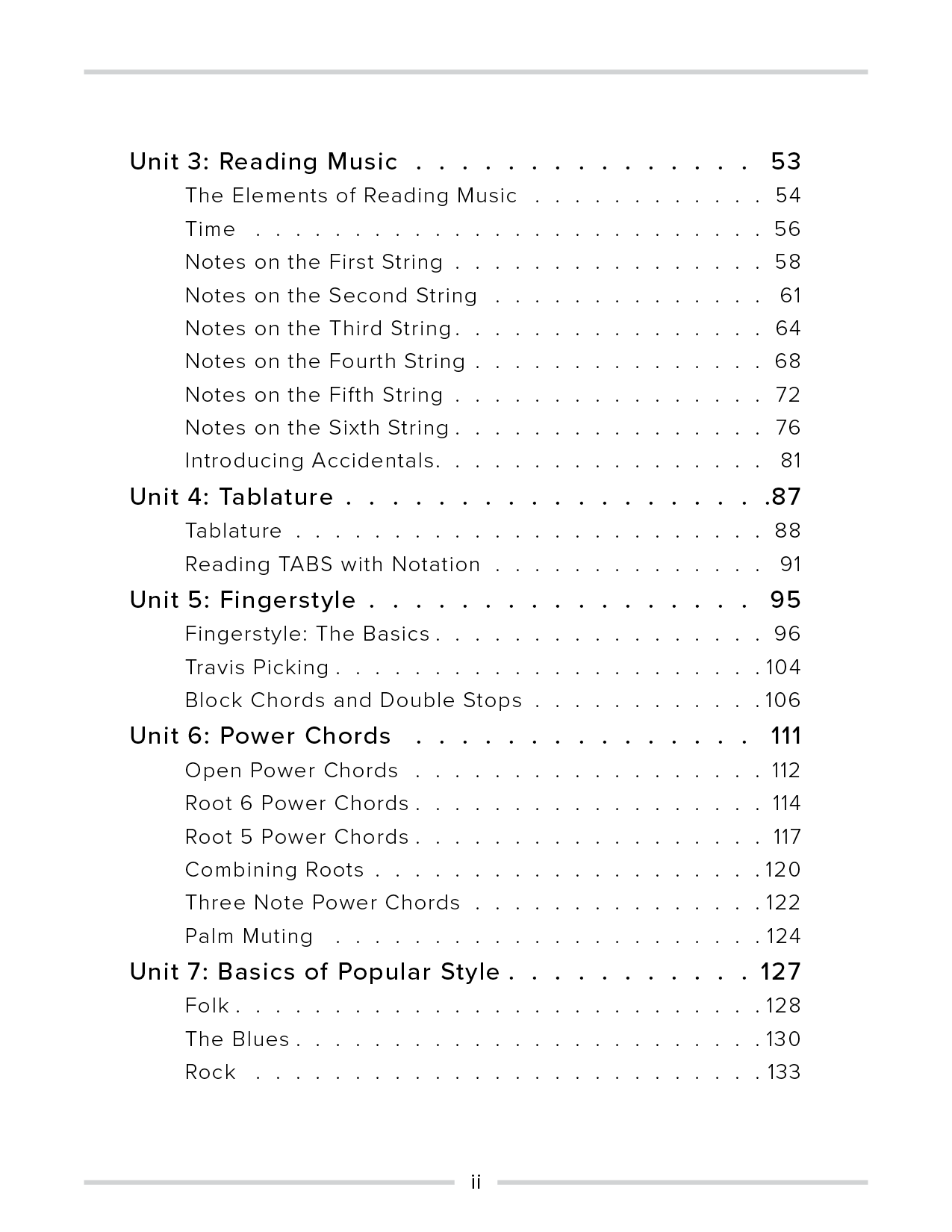 Beginner Guitar: The All-in-One Guide to Learning Guitar
On Sale
Choose the edition that is right for you:
Preview
Go from beginner to confident guitar player.
Have you dreamed of playing guitar but didn't know where to start? Or maybe you've started playing but quickly became confused, overwhelmed, or didn't know what to do next?
Turn your guitar dreams into reality
A lot of new guitar players have no idea how to start playing. When I was learning, I took lessons, and yet still felt like I didn't entirely know what I was doing. I had so many questions that I didn't know how to ask. I pronounced things incorrectly. I felt like everyone else had some secret vault of guitar knowledge that I was somehow missing. I needed a book that did more than just teach me how to play; it had to teach me everything I needed to know about the guitar to feel like a real player. But try as I might, I just couldn't find what I was looking for.
Now, as a professional guitarist and guitar teacher, I want to help new players avoid these same frustrations and uncertainties. That's why I created
Beginner Guitar: The All-in-One Guide
. It not only teaches you how to play, it teaches you everything a new player wants to know to enter the vast world of guitar.
Discover how much fun playing guitar can be!
Inside the pages of
Beginner Guitar
, you'll find everything you'll need to get you started. The self-guided, step-by-step lessons include:
How to play the most common guitar chords
How to read Tablature and Musical Notation
Ample practice exercises & sample songs
How to play by ear
An introduction to a variety of playing techniques such as fingerpicking
Practice playing different styles of music including rock, country, jazz, blues, & classical
Learn about your instrument (acoustic & electric) and how to care for it, tune it, and change strings
About the equipment, such as tuners, capos, effect pedals, amplifiers, & more
Free Audio & Video to Make Learning Easier
Do you learn better with audio and video? No worries; we have you covered! With your purchase, you'll also receive access to:
  ★
Free streaming video companion course
that explains the most important concepts in detail
  ★ Free
audio files
so you can hear what each exercise and song should sound like
Finally learn to play the guitar
If you've spent years dreaming of playing, stop dreaming and start playing. Order your copy and begin your guitar journey today!
Scroll up to order a digital edition, or scroll down for links to order it in paperback or ebook from your favorite online retailer.